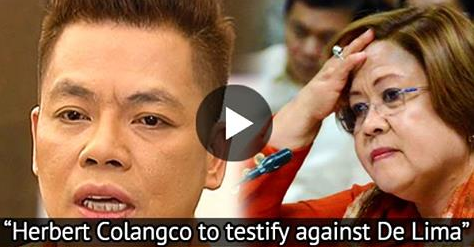 By VIRGIL LOPE
At least eight high-profile inmates from the New Bilibid Prison who are set to testify on Senator Leila De Lima's alleged drug links are now under the custody of the Armed Forces of the Philippines.
The inmates, including convicted armed robber and drug dealer Herbert Colangco and convicted kidnapper Noel Martinez, were transferred on Thursday to the facility controlled by the Intelligence Service of the AFP (ISAFP) in Camp Aguinaldo, Quezon City.
Justice Secretary Vitaliano Aguirre II revealed this development on Friday. He said the inmates had to be transferred to ensure their safety.
He added that the prisoners did not ask for any concessions like money in exchange for their testimonies, which were executed in the presence of the inmates' lawyers and representatives from the Public Attorney's Office.
"None whatsoever. Wala akong pera," Aguirre said. "They (inmates) believe in the war on drugs campaign of President Rodrigo Duterte and they trust me and my team."
The Department of Justice has lined up 10 to 12 convicted drug personalities along with officials and agents of the National Bureau of Investigation as witnesses against De Lima in next week's House investigation on the proliferation of the illegal drug trade in the national penitentiary during her watch as justice chief.
De Lima is expected to snub the September 20 hearing, citing interparliamentary courtesy.
"Very credible yan. Hindi ka maaaring mag-coach ng 12 testigo na nagkakatugma tugma ang kanilang sinasabi," Aguirre said.
Aguirre also disclosed that two witnesses who claimed to have personally delivered the drug proceeds to De Lima's house in Parañaque were from the NBI.
He said the money was part of De Lima's campaign kitty for the 2016 elections in May, where she took the 12th and final ticket to the Senate.
"Sila (inmates) ang inatasan ni (convicted drug lord and NBP inmate) Jaybee Sebastian na magsimulang magbenta ng droga at yung pinagbenta dyan kinukuha ang kontribusyon para daw sa candidacy ni De Lima, simula pa 2013," Aguirre said.